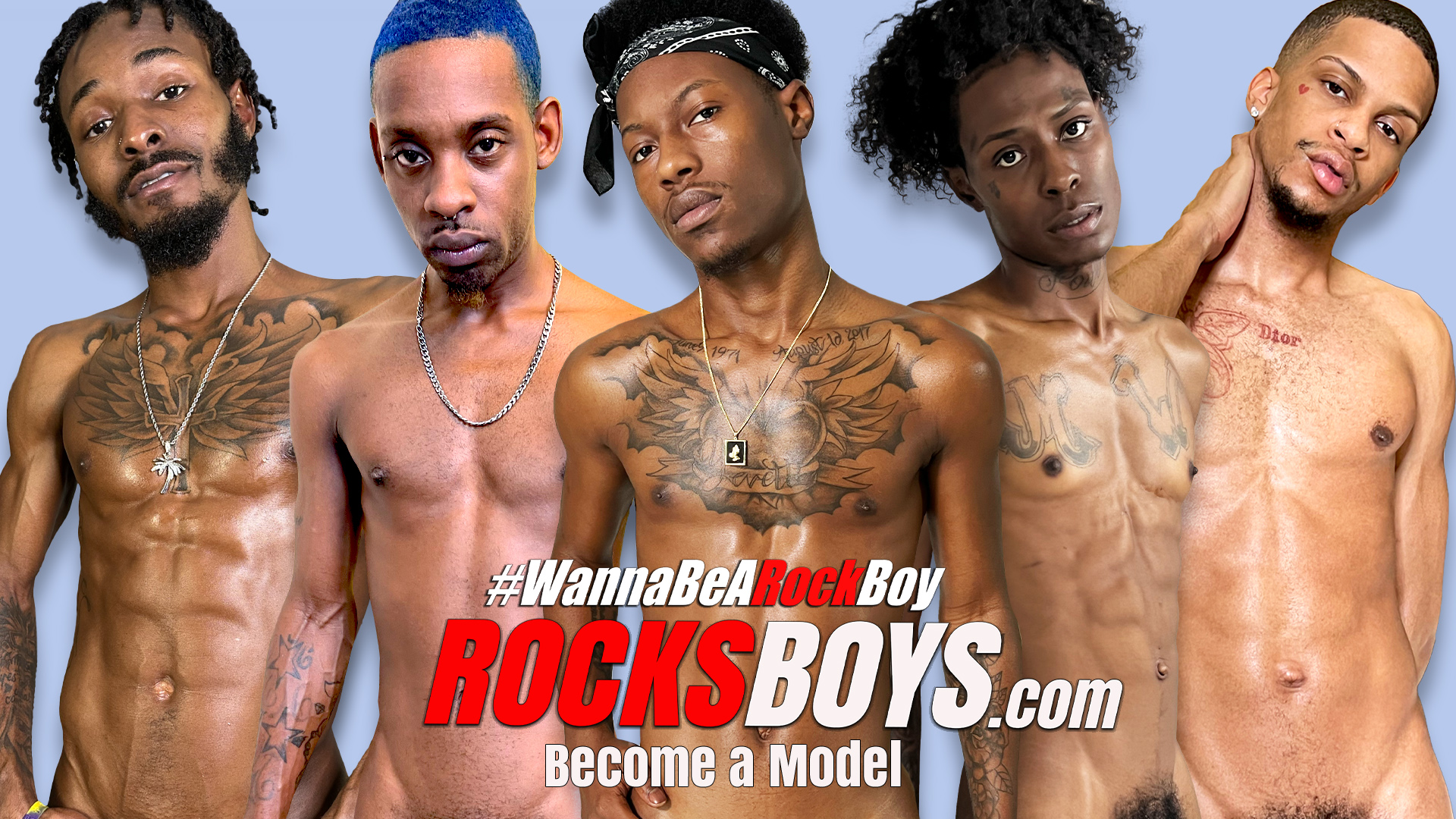 Wanna Be A RocksBoy??
Terms and Conditions
Want to be a model with us? We want to HIRE You!
BASIC INFORMATION
Models must be at least 18 years old and have a valid government issued photo ID.
You should have a attractive body, face and sex appeal!
All races are encouraged to apply, Black, Latin, Asian and White. For White or Asian you should be willing to do interracial photo/video shoots with other Black or Latin men.
Your body MUST be in shape. If you are slightly overweight, do not apply. No exceptions.
Your face must be attractive! It's nice that your dick is BIG, but if not, it needs to be at least average.
Models must be mascualine or inbetween. Fem applicants will be considered on a case by case basis.
Models should have some smarts. You should AT LEAST have a high school diploma or GED.
Models should not be camera shy. We shoot lots of Photos and Video of every model!
Most of our Models are unpublished. If you have never modeled nude before, we will give you priority over models that have been published.
You must have TWO forms of I.D. at the time of the shoot to prove who you are and your age. One must be a government issued picture I.D. with birth date. Of course you understand that you must be at least 18 years old, we do not and will not for any reason what so ever hire you if you are under 18. Don't ask!
PAYMENT
We pay our models based on the following criteria: Body Type, Looks, Dick Size, Previous Experience, and Sex Appeal. Models receive a one-time payment after each shoot, plus invitation to come back for additional shoots (additional solo shoots, duo shoots, videos and more). The better you look and the more you do, the more you get paid! Photo shoots last at least two hours. Again, models are paid at the end of the photo shoot in cash or money order (you decide). For complete details, please read the entire model contract, available once you are accepted to model for us.
AUDITIONS
Some model applicants might be required to submit or complete an audition. The audition will be similar to a photo / video shoot. You will be filmed and photographed masturbating and ejaculating (sometimes you might not be required to ejaculate). The reason for the audition is to determine that you are camera ready. Lots of times new models tend to get nervous when the camera is rolling and this is normal. But we also have to be sure that it doesn't become something that will hinder you from being able to perform. Amount paid for auditions will be determined based on how well your audition went. During this time, it will also be determined if you will be able to move forward and conintue being a Rocksboy if you are selected.
PHOTO & VIDEO SHOOT
A photo shoot consists of us taking digital photos and video of you masturbating (jacking off) and ejaculating (busting a nut). You are required to ejaculate and if for any reason you are not able to ejaculate, you will be paid less. We call this the money shot. Please do not have sex (with someone or alone) at least 4 days before a shoot. Let it build up. After the initial photo shoot, we may hire you for other assignments including additional photo shoots, video shoots, shoots with other guys and more.
If you are interested in becoming a model, please complete the entire application below.
NOTE: All form fields marked with * are required.